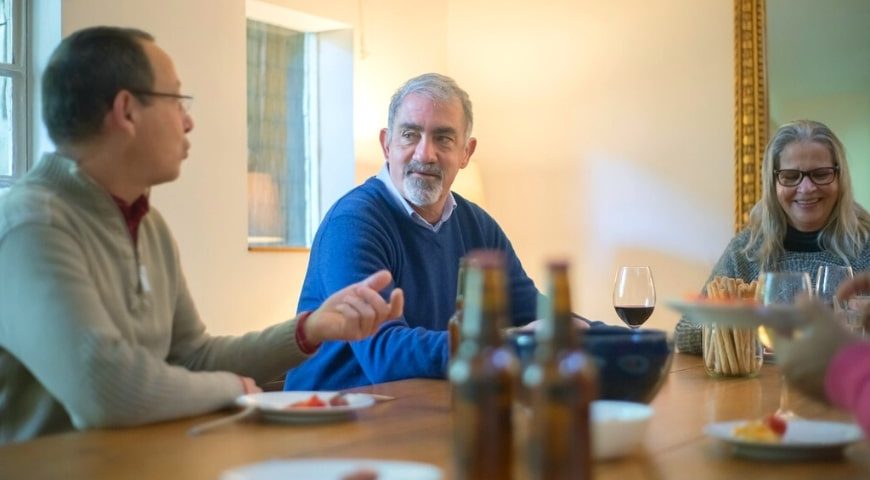 Social connections are important, especially as we get older. However, many of us do not know how to start a conversation with an older person. You might worry that you don't have much in common. This post will cover conversation starters with elderly people. They can be great for getting to know someone and forming a connection.
Try These Conversation Starters With Elderly People
Ask About Their Favorite Things
Everyone has favorite things that can get them talking. Start a conversation by asking about some of their favorite things. Next thing you know, the conversation just keeps on flowing. Here are some questions you can ask:
What is your favorite song?
Who is your favorite person?
Where is your favorite place?
What is your favorite food?
Discuss Current Events and History
Asking seniors about current events is a good way to get their minds going. They will also be updated and stay connected with events in the world. You can also discuss interesting historical events. At the same time, you can learn about their experiences and benefit from their insights and experience. Here are questions that you can ask:
What is the greatest invention that you've witnessed?
Have you experienced any historical events firsthand?
What can you say about the recent news on (insert topic)?
What was it like growing up during your time?
Self-concept
Asking seniors questions about how they view themselves can be promising. It will not only be a good way to start a conversation but also a way to check their mental well-being. A positive outlook will indicate satisfaction with life. You can start your conversation with questions like these:
What is your best accomplishment so far?
How do you feel about life over the past few years?
What traits helped you get as far as you have?
Do you have more you would like to accomplish?
4. Childhood Years
Reminiscing how far they've come can be a good conversation starter. For many, it can be a way to look back and feel grateful for a life well lived. The following can be good conversation starters:
What were you like when you were a kid?
Where was your favorite place to go when you were younger?
Who did you look up to as a kid?
Did you have any hobbies you enjoyed as a kid?
Ask for Advice
One of the best things to ask a senior is life advice. Most are willing to share what they have learned over the years. Here are some questions that you can ask:
What is your life's biggest realization?
Do you have any advice you wish someone had given you when you were my age?
What is the most important thing a person should remember when trying to accomplish a goal?
Do you have advice for people afraid to try new things?
It isn't hard to start a conversation with an older person. You just need to take the first step. As long as you show that you are a keen listener and respectful, you'll both have a great time talking.
Innovative, Experienced, and Trusted Senior Living Community
Looking for exceptional service and care for your loved one? Welcome you to our senior living communities, where the health and well-being of our residents are our top priority. Please click here for our contact page, and we'll answer any questions you may have.
Thanks for visiting!